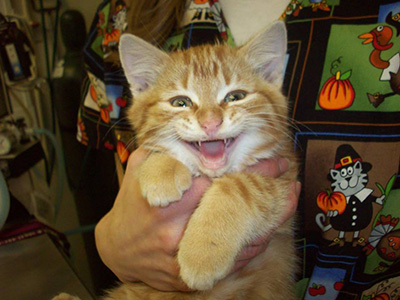 Our kitten wellness program is designed to offer your new kitten all the benefits of veterinary services available to him or her from birth to 16 weeks of age. Included in this service is a series of examinations and vaccinations including rabies, panleukopenia (distemper), rhinotracheitis, calici virus, chlamydia and leukemia virus. These vaccines protect your kitten from both gastrointestinal and upper respiratory infections common in cats.
In addition, your kitten will be tested for worms and be treated for the most common intestinal worm of kittens – roundworms. Roundworms can cause your kitten to vomit and / or experience diarrhea; however, it is possible for your kitten to have roundworms and not show any signs of harboring the worms. A microscopic fecal examination will allow us to evaluate the presence of these worms. The examination will also look for other types of worms that can affect your kitten.
A Feline Leukemia and FIV test is also recommended for all kittens. These viruses can affect the long term health of your kitten. This test is especially important if you already have another cat in the same household. To avoid transmission of these viruses to other cats in your home, isolate your new kitten until a test has been performed.
At your initial kitten exam, a kitten package will be provided to educate you on common kitten behaviors, illnesses, pet insurance and a sample of Revolution, which is a monthly parasite control that we recommend for the life of your kitten.
Kitten Health Care Protocol
6 weeks or younger
Medical Exam
Fecal Exam ( please bring a small sample)
Deworm
Start on quality kitten food
7- 8 weeks old
Medical Exam
Fecal Exam ( please bring small sample)
Start on monthly Revolution (at 8 weeks)
Test for Feline Leukemia / FIV
Deworm #
Vaccinate: PRC-C #1 of 3*
11-12 weeks old
Medical Exam
Deworm #2
Continue on monthly Revolutio
Vaccinate: PRC-C #2 of 3
Felv #1 of 2 *
15-16 weeks old
Medical Exam
Continue on monthly Revolution
Fecal Exam ( please bring small sample)
Vaccinate: PRC-C #3 of 3
Felv #2 of 2
Rabies 1 year
5-6 months old
Spay or Neuter
Place ID Microchip
Continue on monthly Revolution
* PRC-C Vaccine consists of Panleukopenia, Feline Viral Rhinotracheitis, Calicivirus and Chlamydia
** Felv = Feline Leukemia Vaccine. This vaccine is strongly recommended if your cat goes outdoors, is in contact with cats of questionable vaccine status, or if you adopt or foster cats.
For everyone's safety, please bring your kitten in a carrier.